The administrator can set the reservation policy on Acall Portal to restrict the usable time for meeting rooms and the period of time for advance reservation.
ATTENTION
・This restriction is not applicable to a worker who has an administrator or a multi-tenant administrator permission.
・Customers who use the calendar linking function with the meeting room reservation method "Reservation on Outlook / Google Calendar" cannot use reservation policy function.
It depends on the settings on Microsoft 365 / Google Workspace side.
Set up appointment and meeting room reservation policy
After logging in the Portal, Click [Settings] > [Company setting] in the side menu. You can restrict maximum duration and date limitation for reservations in the [Reservation Policy] section.
By default, the maximum duration is set off and the date limitation for reservation is set to a maximum of 12 months.
Values that can be entered are as follows
| | | | |
| --- | --- | --- | --- |
| | Minimum | Maximum | Default |
| Maximum Time Limit | 15 minutes | 1440 minutes | Off |
| Maximum Reservation Period | 1 month | 36 months | 12 months |
Click the [SAVE] button at the bottom of the screen to confirm the settings.
💡 NOTE
Date limitation can be reserved until today when is X months from now.
For example, if today is February 22nd, the following setting is available.
Set to 1 month → can reserve until March 22nd
Set to 2 months → can reserve until April 22nd
Create/Edit appointments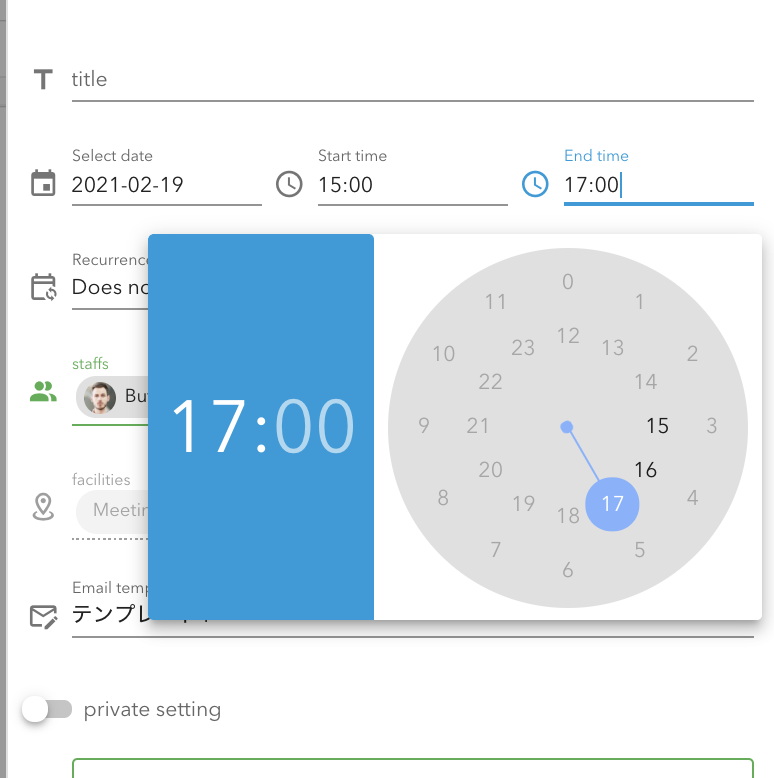 If the maximum duration is set up, an icon will be displayed at the appointment end time on the edit screen, and the maximum time will be displayed when you hover the mouse cursor over.
⚠︎ ATTENTION
You can only enter dates within the date reservation limit as the scheduled date when you reserve in advance.
The key symbol is displayed for users with general permission , not for users with administrator or multi tenant permission.
Create/Edit meeting room reservations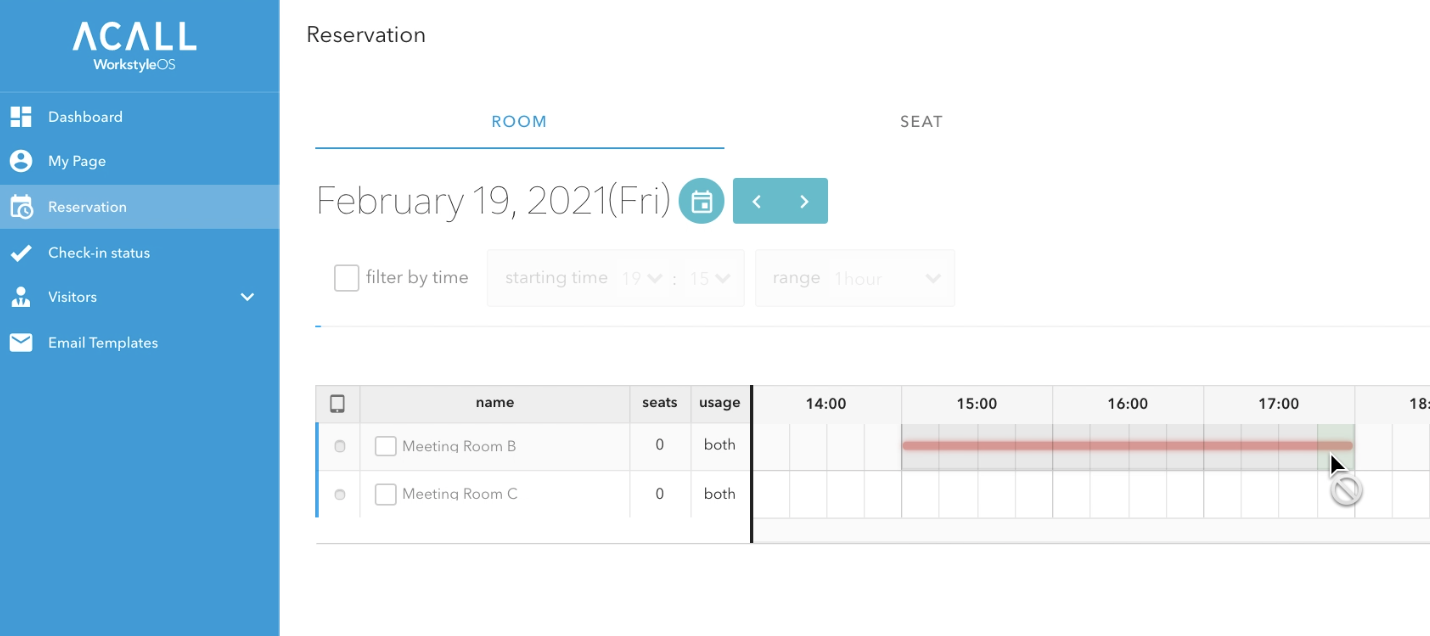 When you create an appointment or internal meeting from the reception/meeting room status screen, the room will automatically be reserved for the maximum amount of time, even if you try to select more than the time limit.
For example, if the maximum duration is 60 minutes, you can select to reserve 120 minutes, but it will automatically select a reservation for 60 minutes.
⚠︎ ATTENTION
The dates that can be selected from the calendar icon are only dates within the reservation limit.


The appointment/meeting room reservation restriction only applies to users with general privileges, not to users with administrator or tenant administrator privileges.
Confirmation of the Acall Meeting restrictions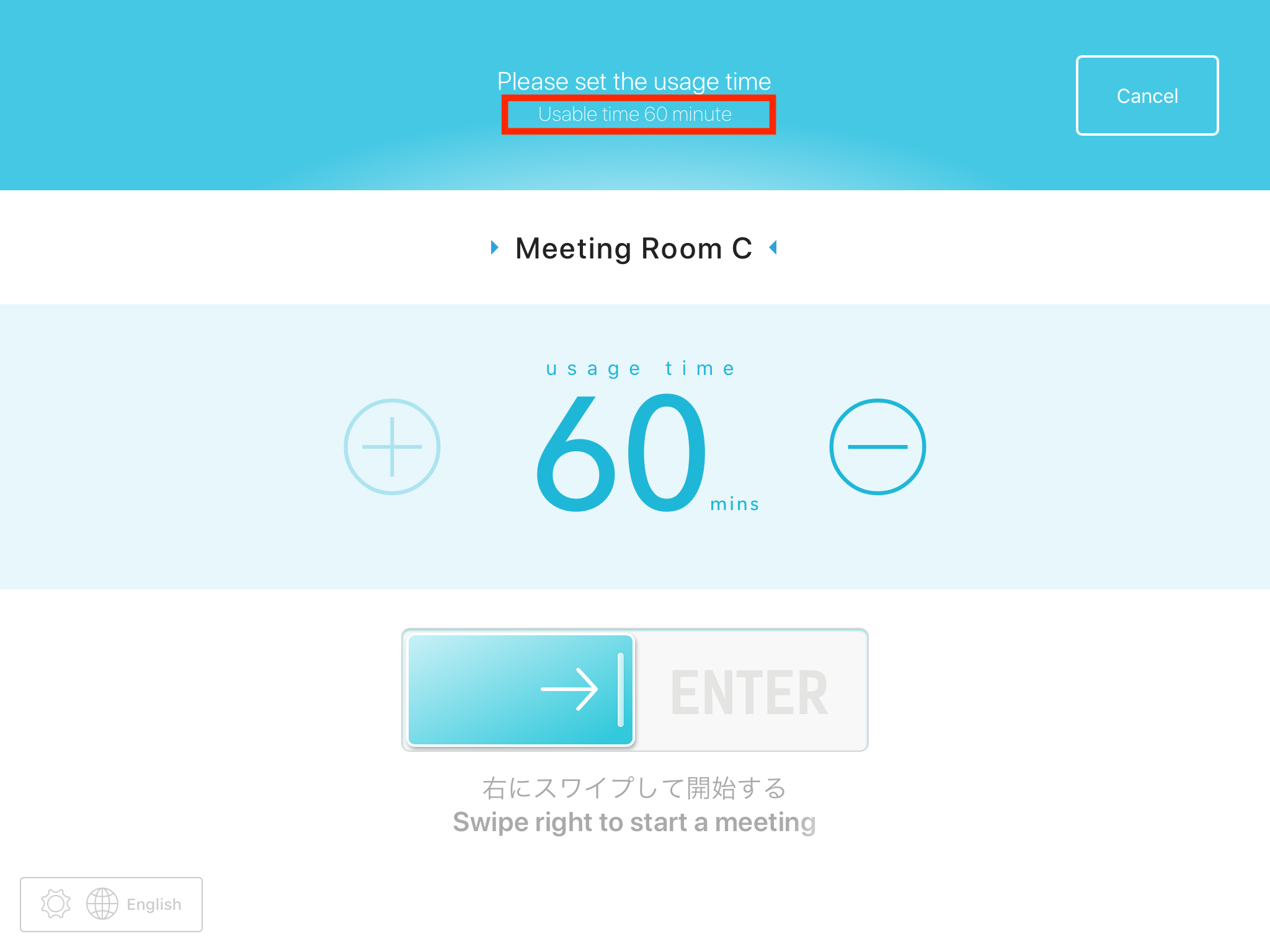 If you set maximum duration, Acall Meeting will also has a maximum duration setting, and the usable time will be displayed at the top.
The maximum duration will also be applied in Acall Mobile.
An error message will be displayed and no reservation will be created if a worker with general permission selects a time that exceeds the limit.