Service: WorkstyleOS Portal
Worker: Admin Users
This page explains how to export the appointment log and the specifications of the log file.
In the Appointment Log, you can check the reception/answering history of guests by ACALL RECEPTION and guests' entry/exit history.
Appointment Log
You can specify a period and export the history of visitor meeting information and reception/response information in ACALL RECEPTION as a CSV file.
The maximum period is three months.
The information of the internal meeting is not exported. Please refer to "Exporting Meeting Room Usage."
The character encoding of the exported CSV file is UTF-8.
Exporting the Appointment Log
Open "Import & Export" from the side menu of WorkstyleOS Portal and open the "EXPORT" tab.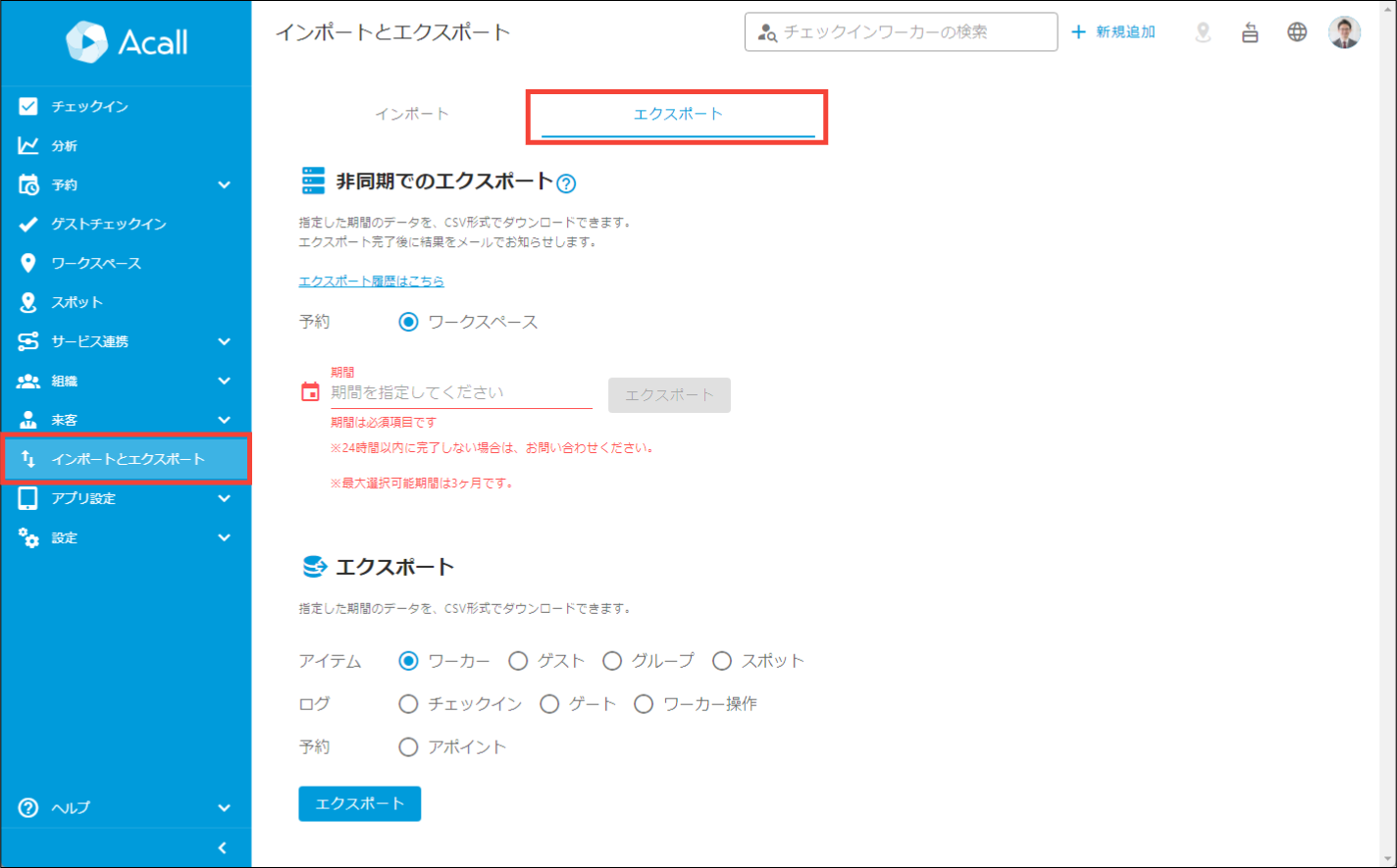 Select "appointment," select a term, and click "EXPORT."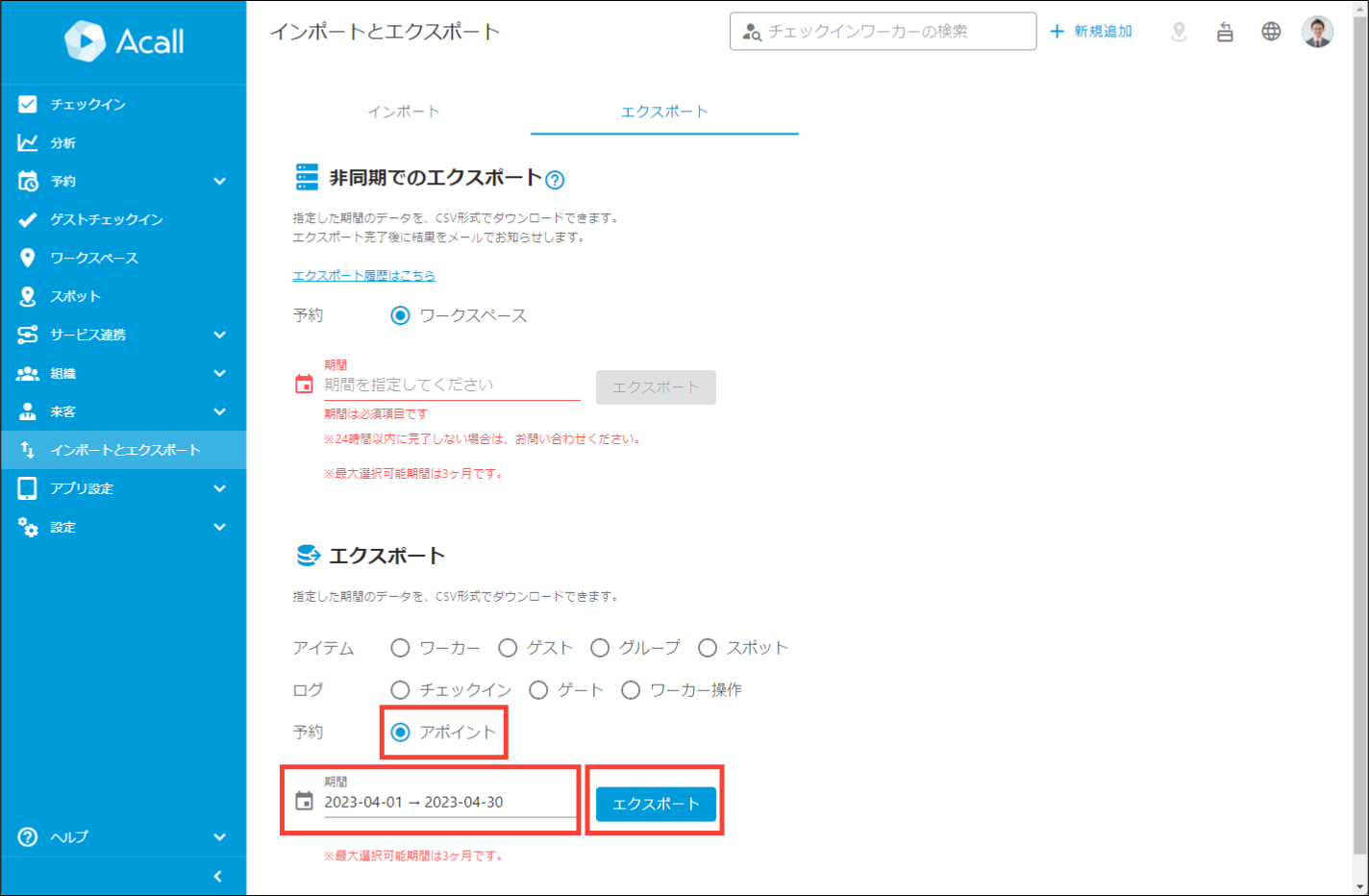 When the "Success Log Exported" message is displayed, the export is complete.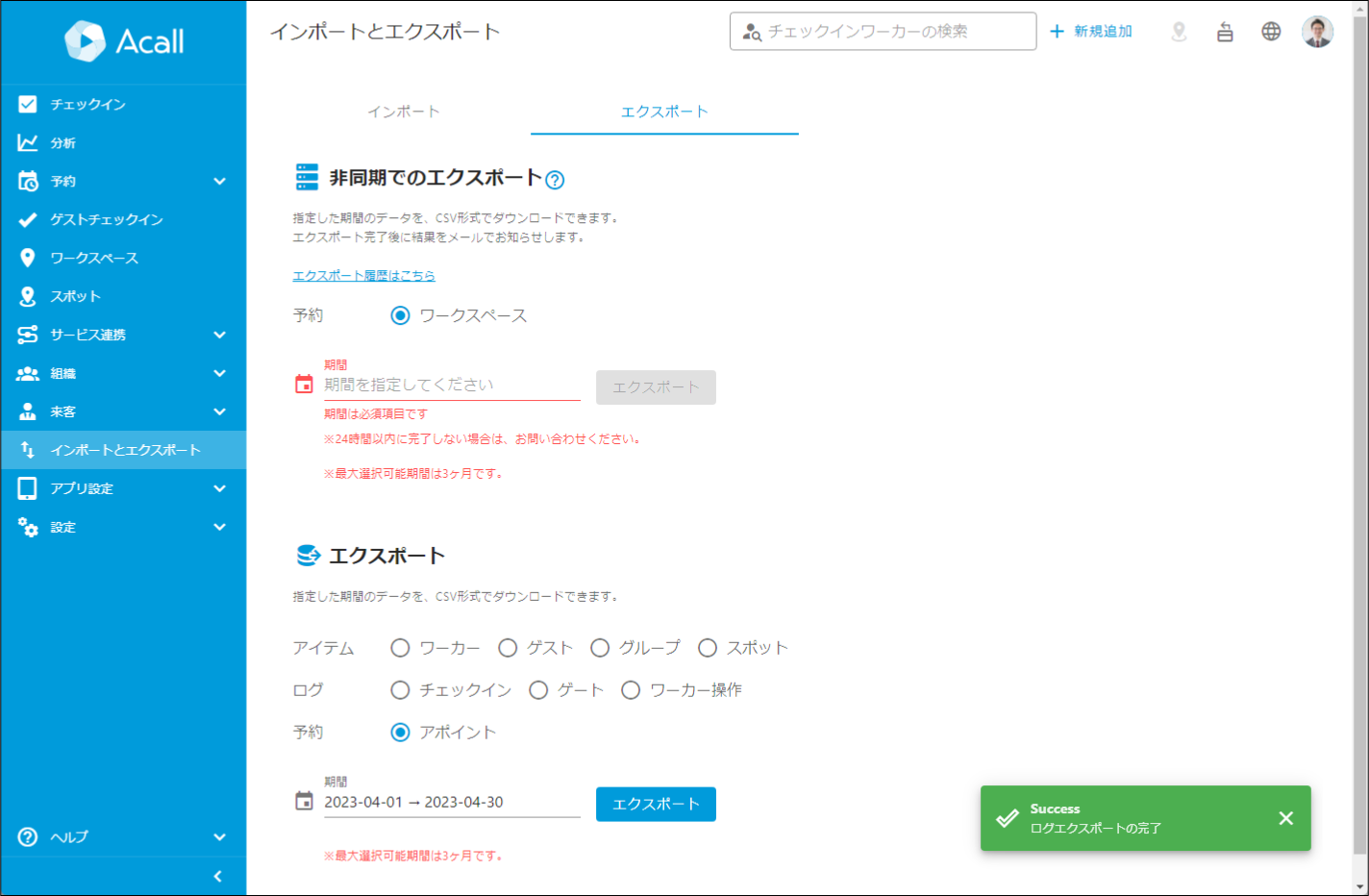 Information on the appointment log
Item
Description

Serial number

Serial number in the CSV file
Start time
Start date and time of the appointment
End time
End date and time of the appointment
Title
Title of the appointment
Company name
Guest's company name
Name
Guest's name
Phonetic
Guest's furigana (when you enter name in Japanese)
Cantact information
Guest's email address
Invited time
Date and time the email with the appointment code was sent to the guest
Visited time

Date and time of check-in at ACALL RECEPTION

※Available in ACALL RECEPTION

Entered time

Date and time of guest's entry via ACALL RECEPTION

※Available in ACALL RECEPTION

Exited time

Date and time of guest's exit via ACALL RECEPTION

※Available in ACALL RECEPTION

Guest count
Number of other guests
Attend users
Person in charge of the appointment
Room/Equipment
Workspace (meeting room/equipment) used for the reservation
Approve user

Name of the worker who answered via ACALL RECEPTION

※Available in ACALL RECEPTION

Note
Notes on the appointment
Privacy
Whether the reservation is set to private or not
Device name

Name of the ACALL RECEPTION device

※Available in ACALL RECEPTION

Session invitation code

Admission pass accepted by ACALL RECEPTION

※Available in ACALL RECEPTION