This page explains how to customize theme colors and a company logo on Acall Portal.
What you can do with theme settings
By setting a theme, you can change the theme color on Acall Portal to your company's corporate color or change Acall logo to your company's logo.
In addition to being used for internal branding, customization allows workers to recognize Acall Portal as an internal tool and familiarizes with its daily operation.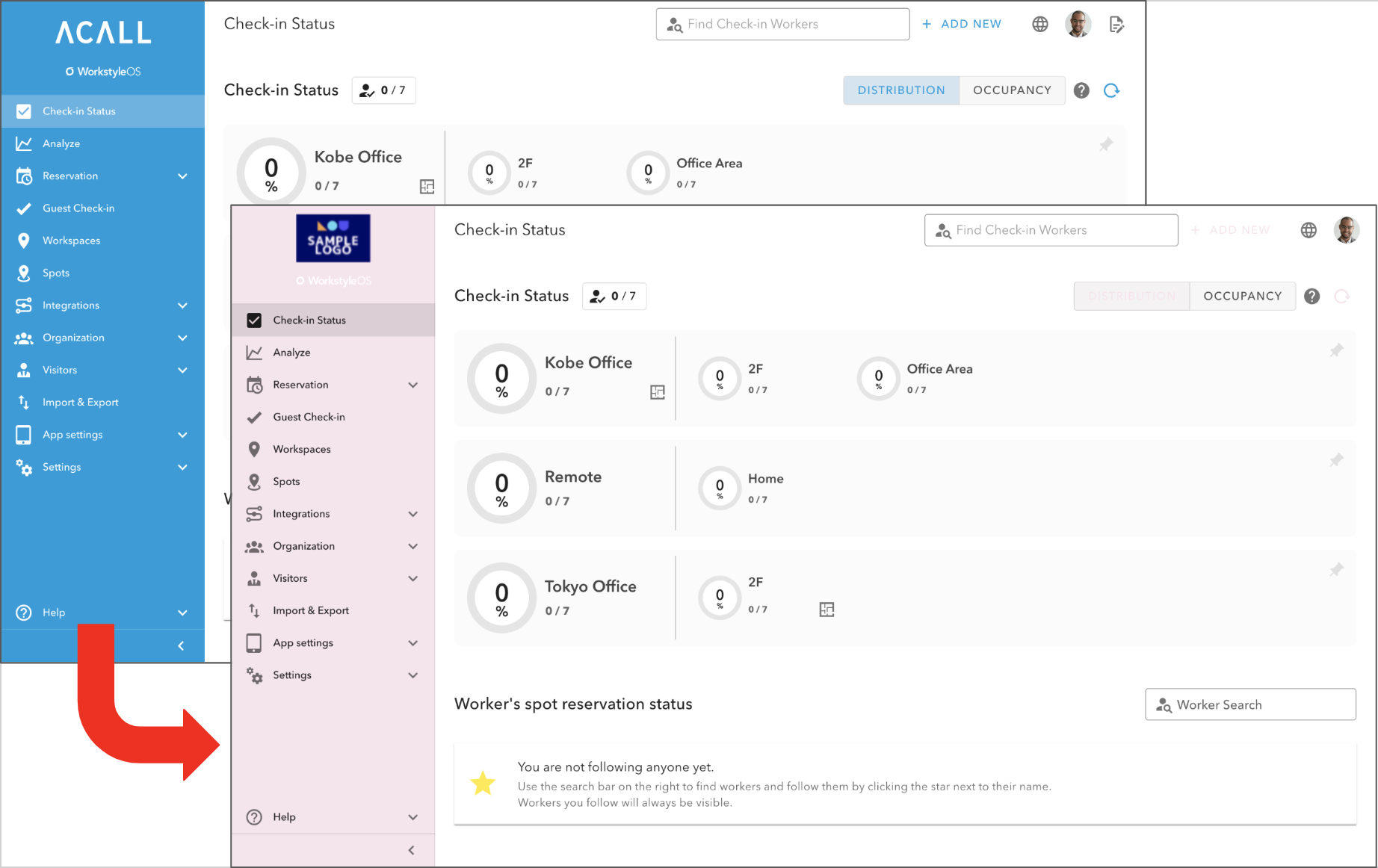 NOTE
・Theme settings are set for each company. Therefore, there is only one setting per one company.
・Once you set a theme, it will be applied to all workers using Acall Portal.
・Theme can not be set for each worker.
ATTENTION
・If you are using multi-tenant function, theme settings are applied to all tenants and cannot be set for each 
tenant (company).
Definition of theme settings menu
Click [Company Setting] on the side menu and you will find "Theme Settings" section.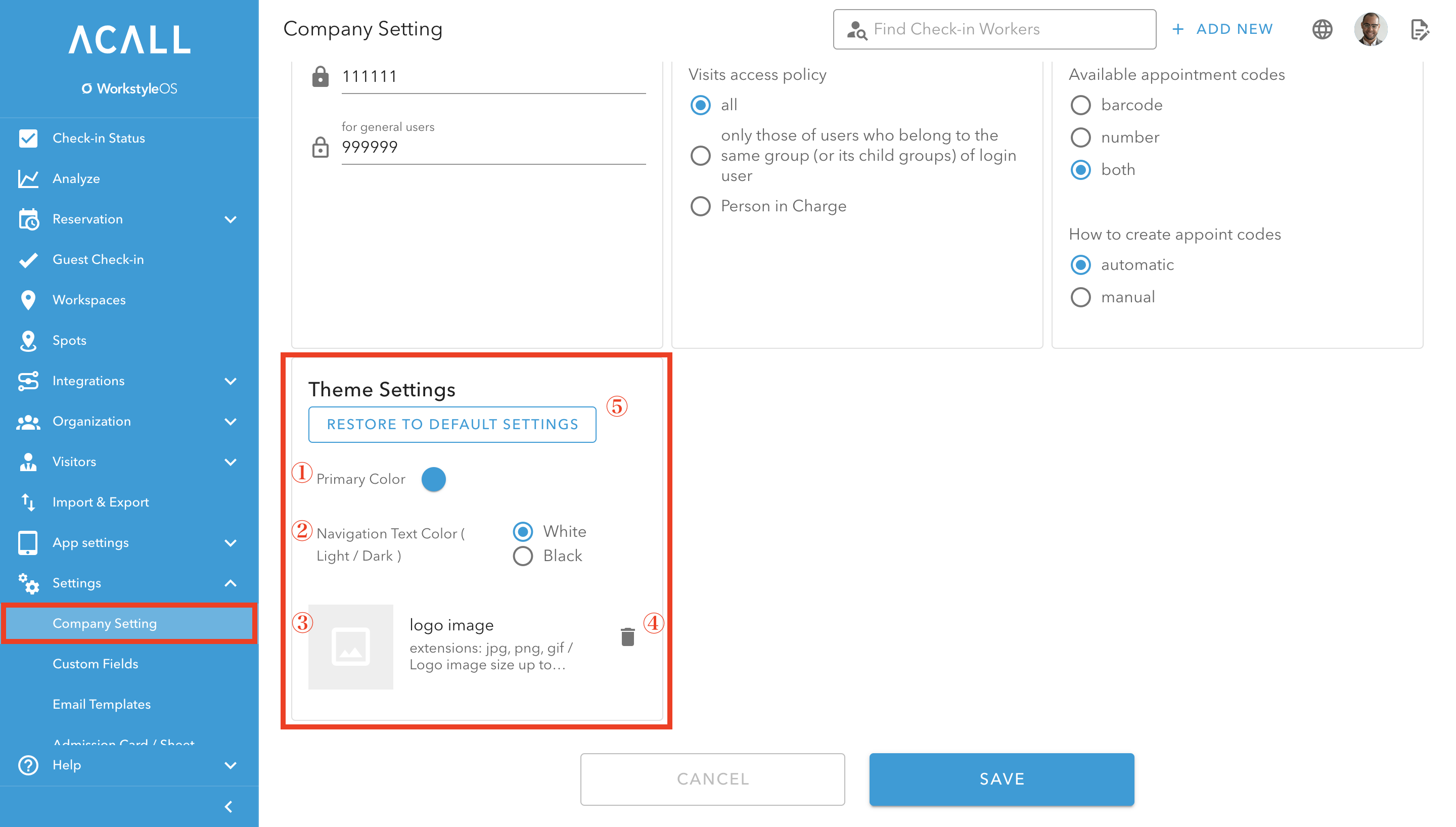 No.
Item
Description

1

Primary Color

Set the primary color of the side menu and buttons on various pages

2
Navigation Text Color
(Light / Dark)
Switch the side menu text color to white or black
3
logo image
Change a logo image
4
trashcan icon

Delete a logo image
※Restore to ACALL logo

5
RESTORE TO DEFAULT SETTINGS

Restore primary color, menu text color, and logo image to default settings
The following is a sample image of customized screen.
※Primary color is applied to the side menu and various buttons.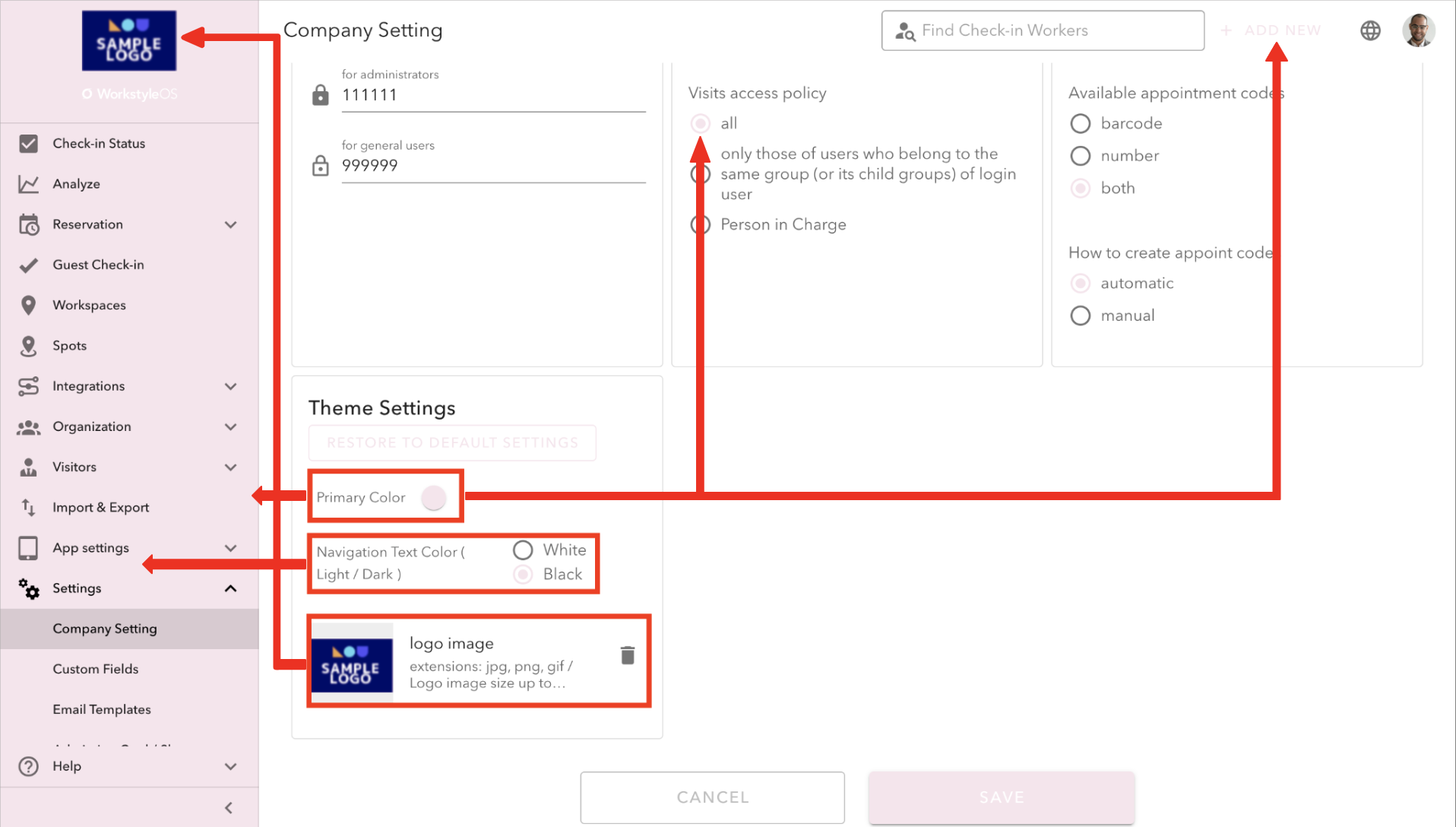 Customize primary color
Click the primary color pointer in the "Theme Settings" section.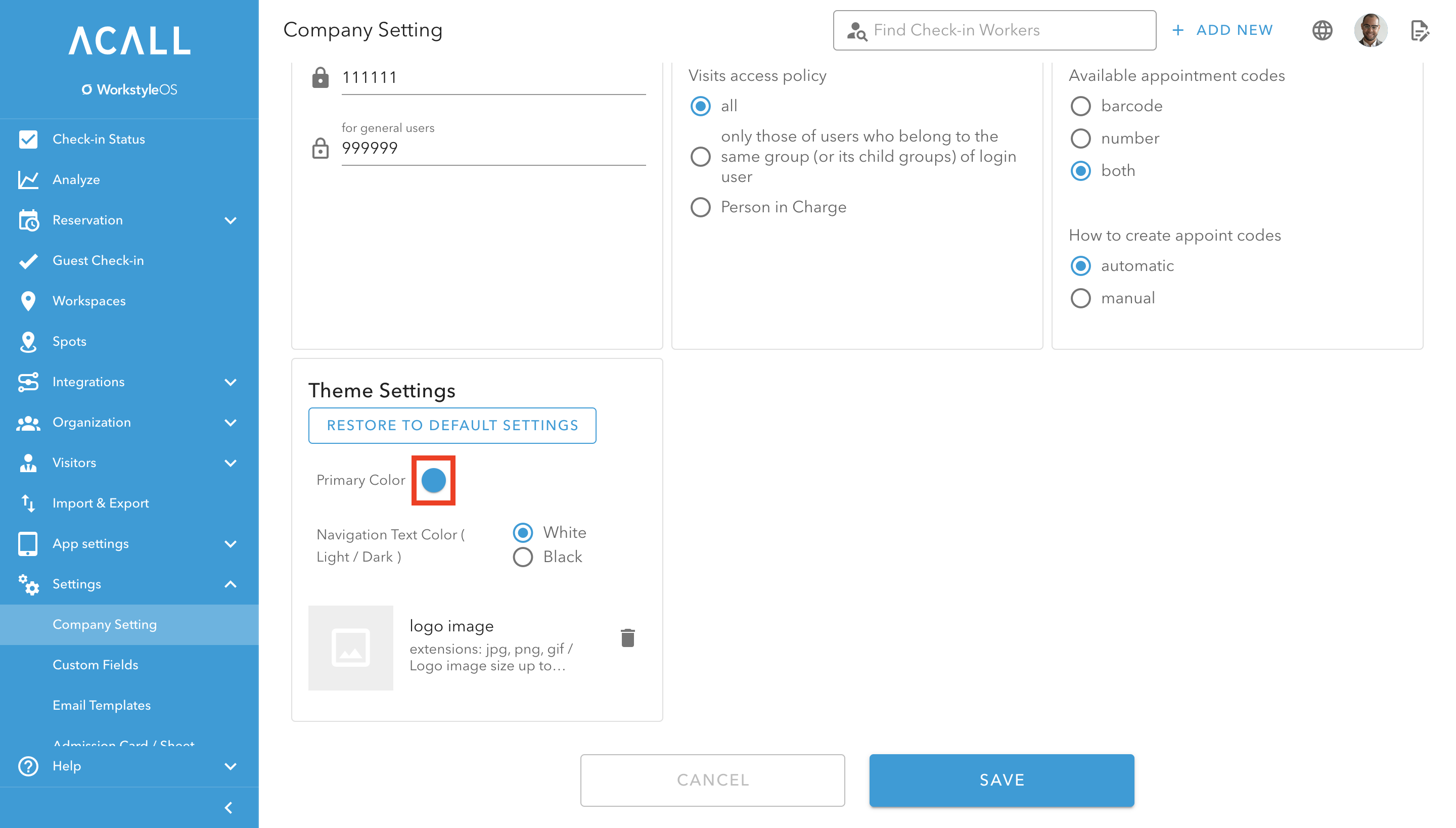 Color panel will pop up. Adjust and select color.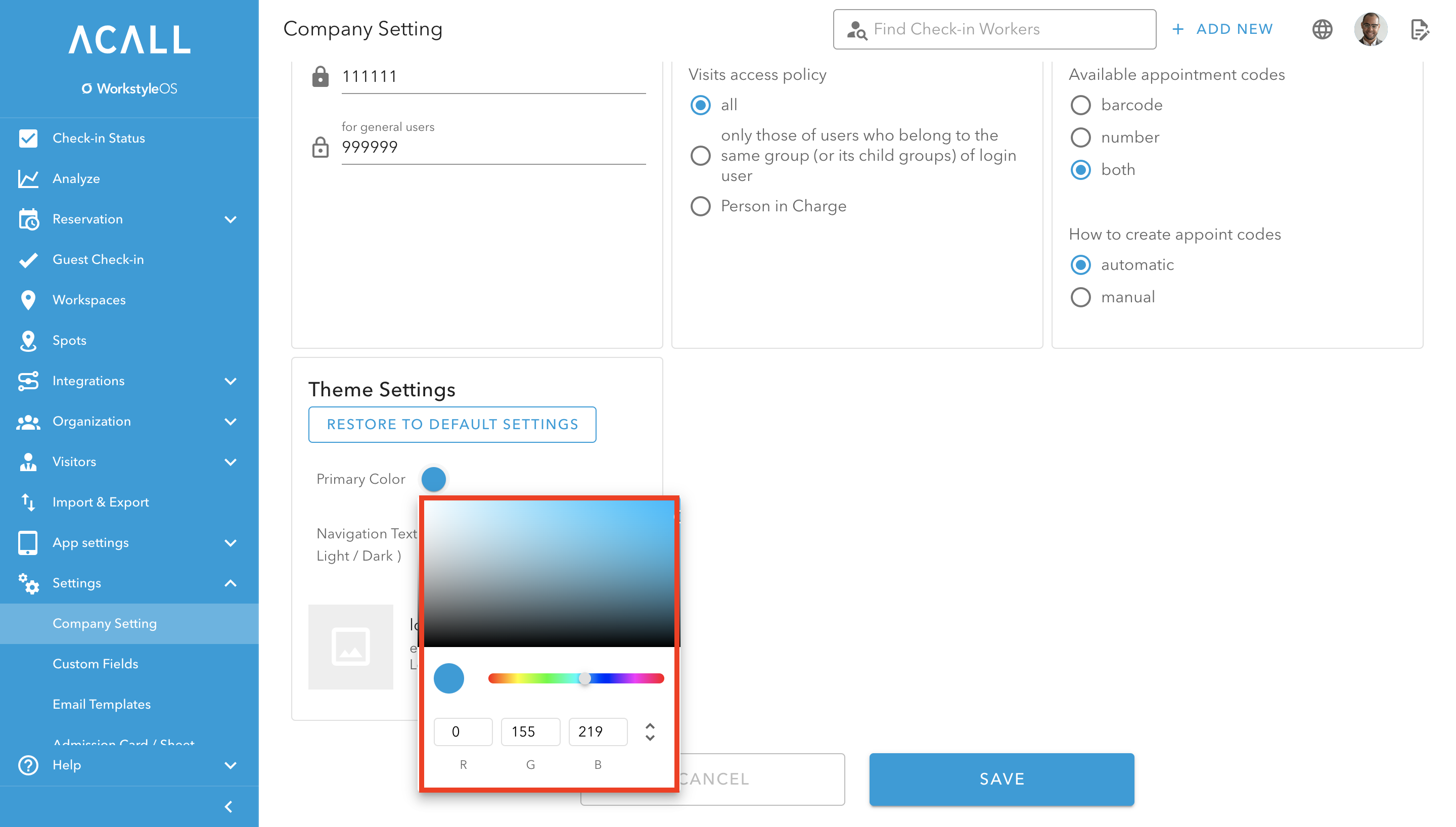 You can set the following in the color panel.
No.
Description
①
Select the lightness or darkness of color
②
Change color
③

You can specify the color with adjustment of RGB, HSL, and HEX if you want to specify a color numerically.
※Switch to HEX if you want to specify color with color code (e.g. #FFFFFFF)
Click [SAVE] to apply the changes.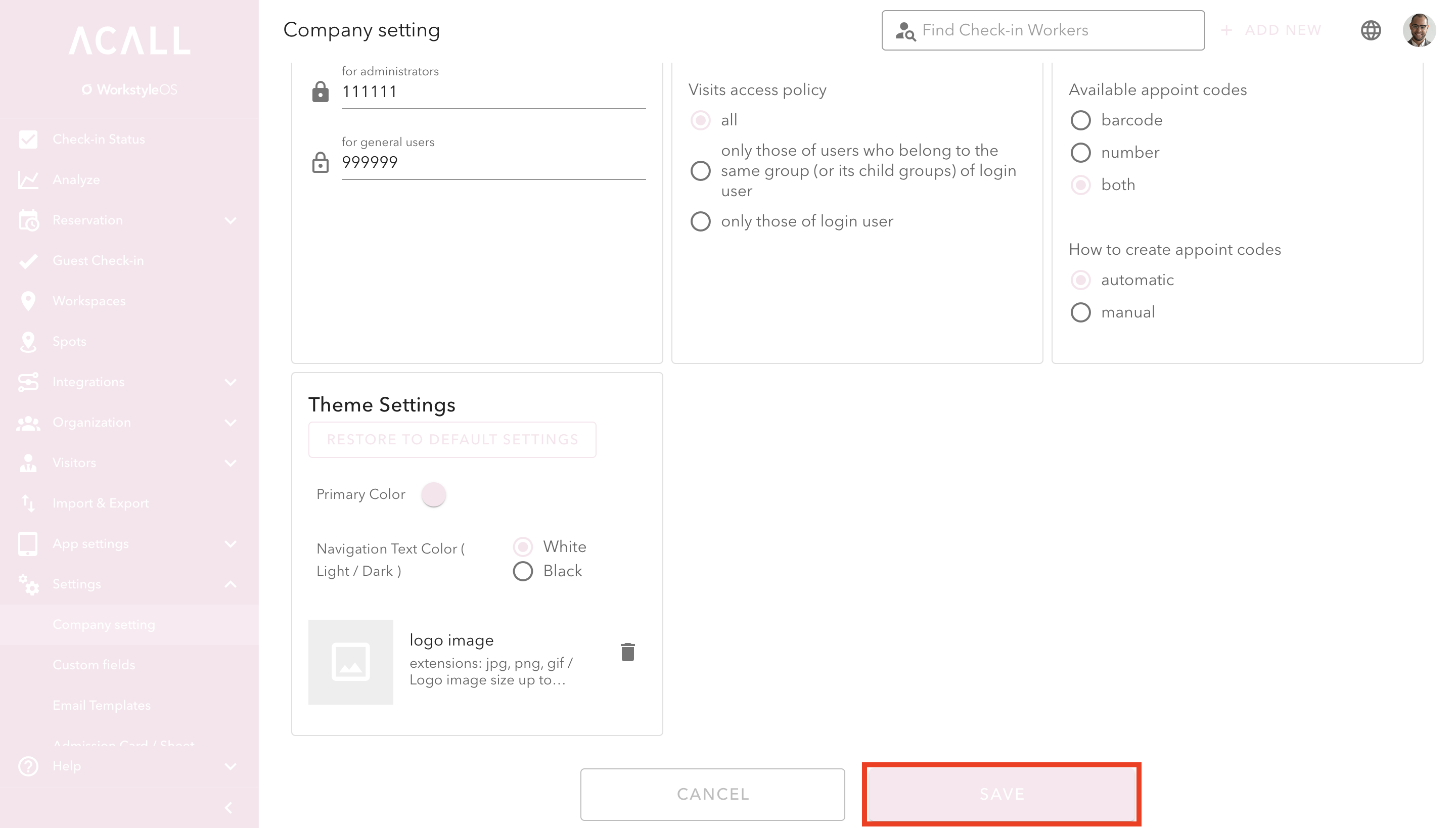 ATTENTION
・The primary color setting is applied only to Acall Portal screen.
 It is not applied to Acall applications (Acall Reception, Acall Meeting, etc.)
Customize logo image
NOTE
・Image format should be jpeg, png, or gif.
・We recommend the file size of the image to be up to 2000kb.
Click logo image in "Theme Settings" section.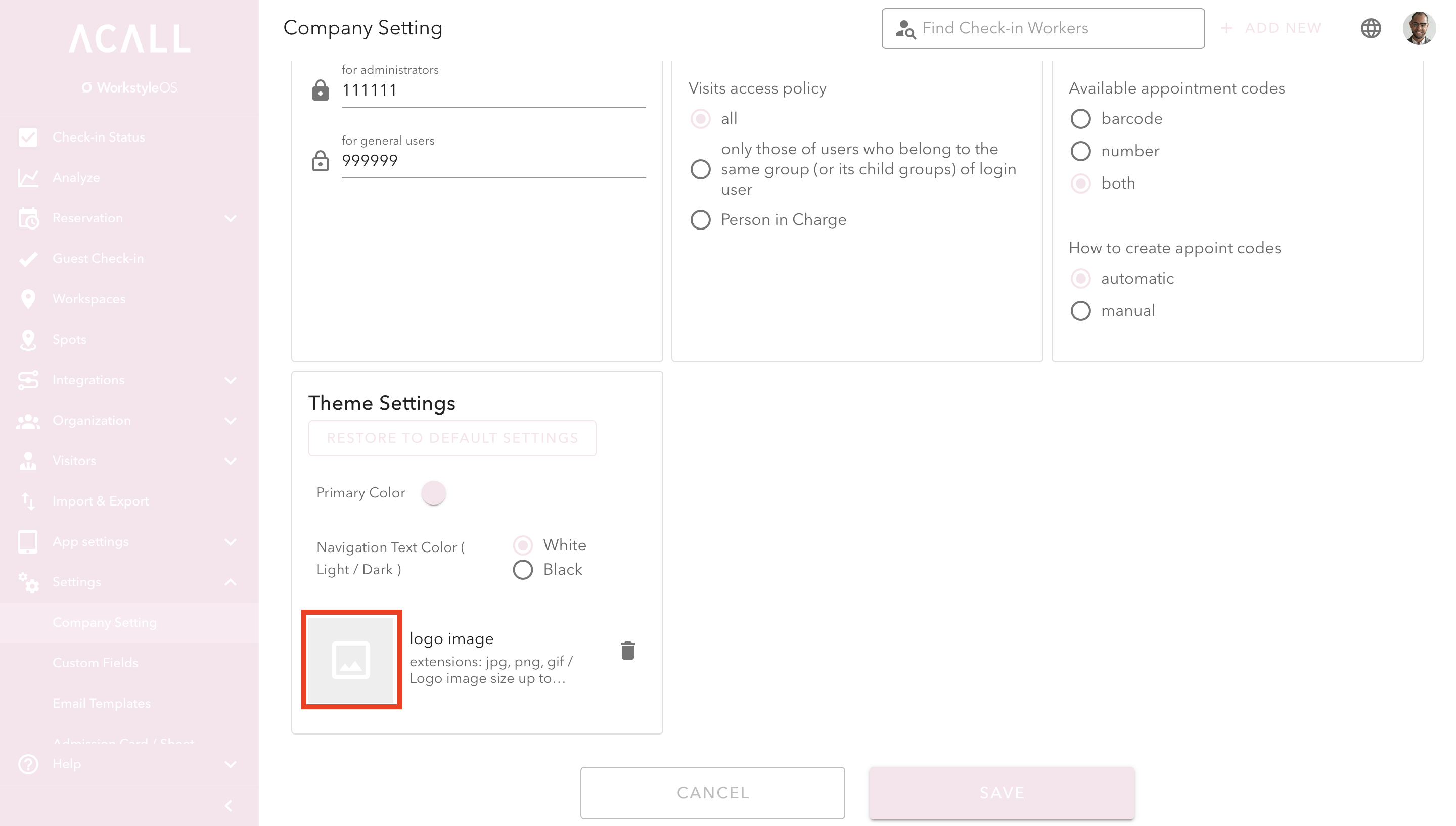 Select your logo image and click [Open].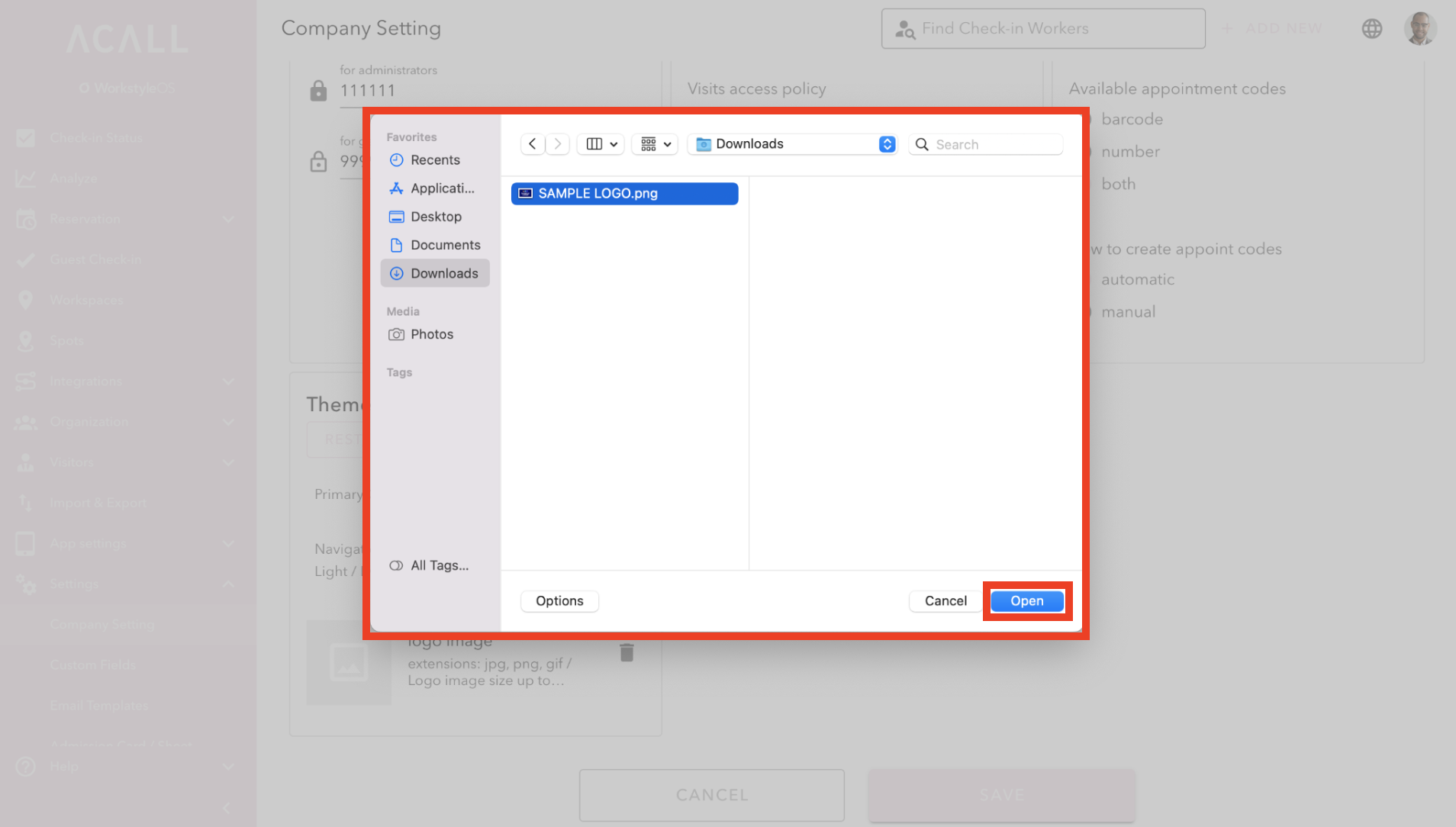 Click [SAVE].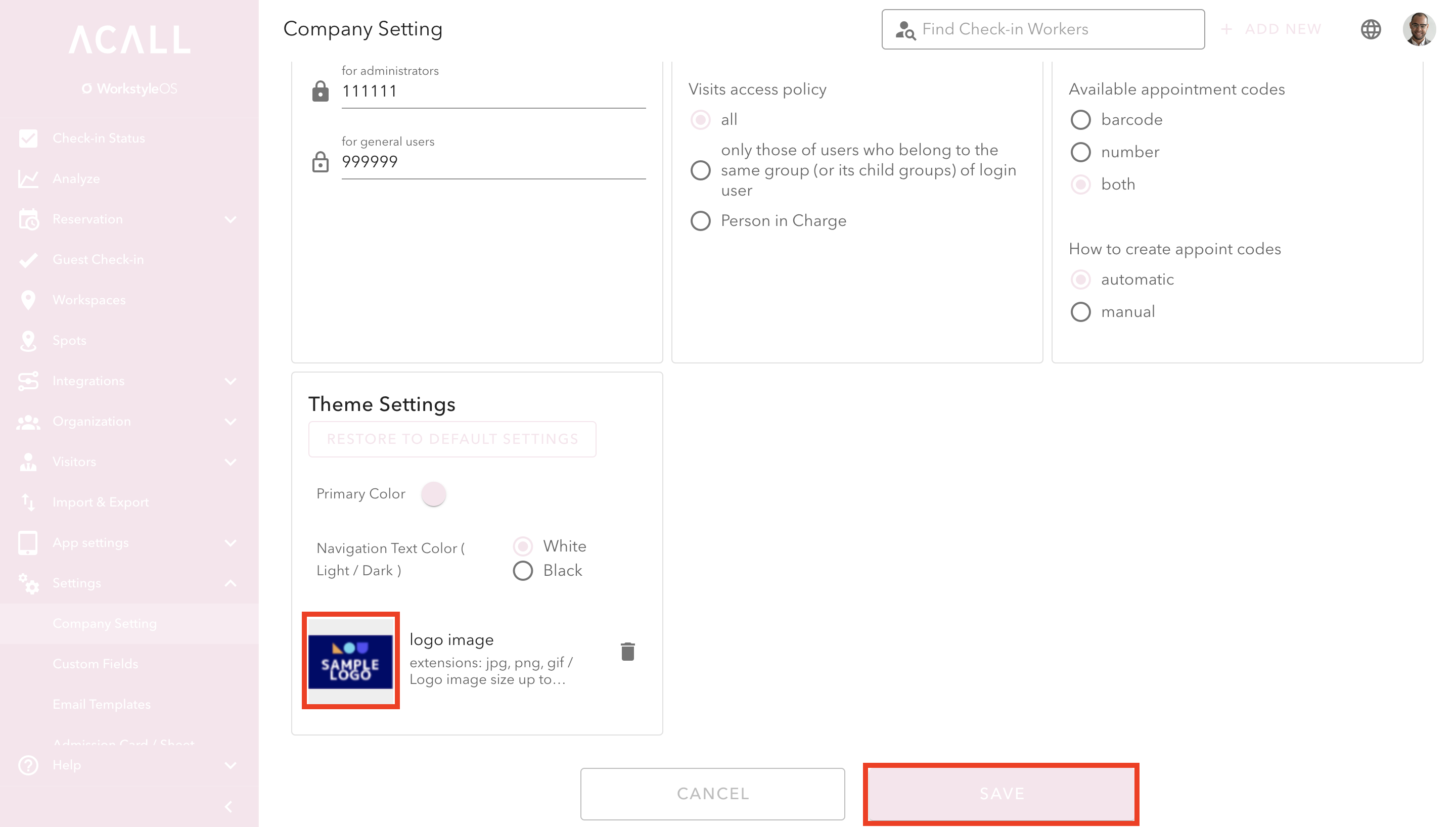 Your logo image will be displayed in the side bar.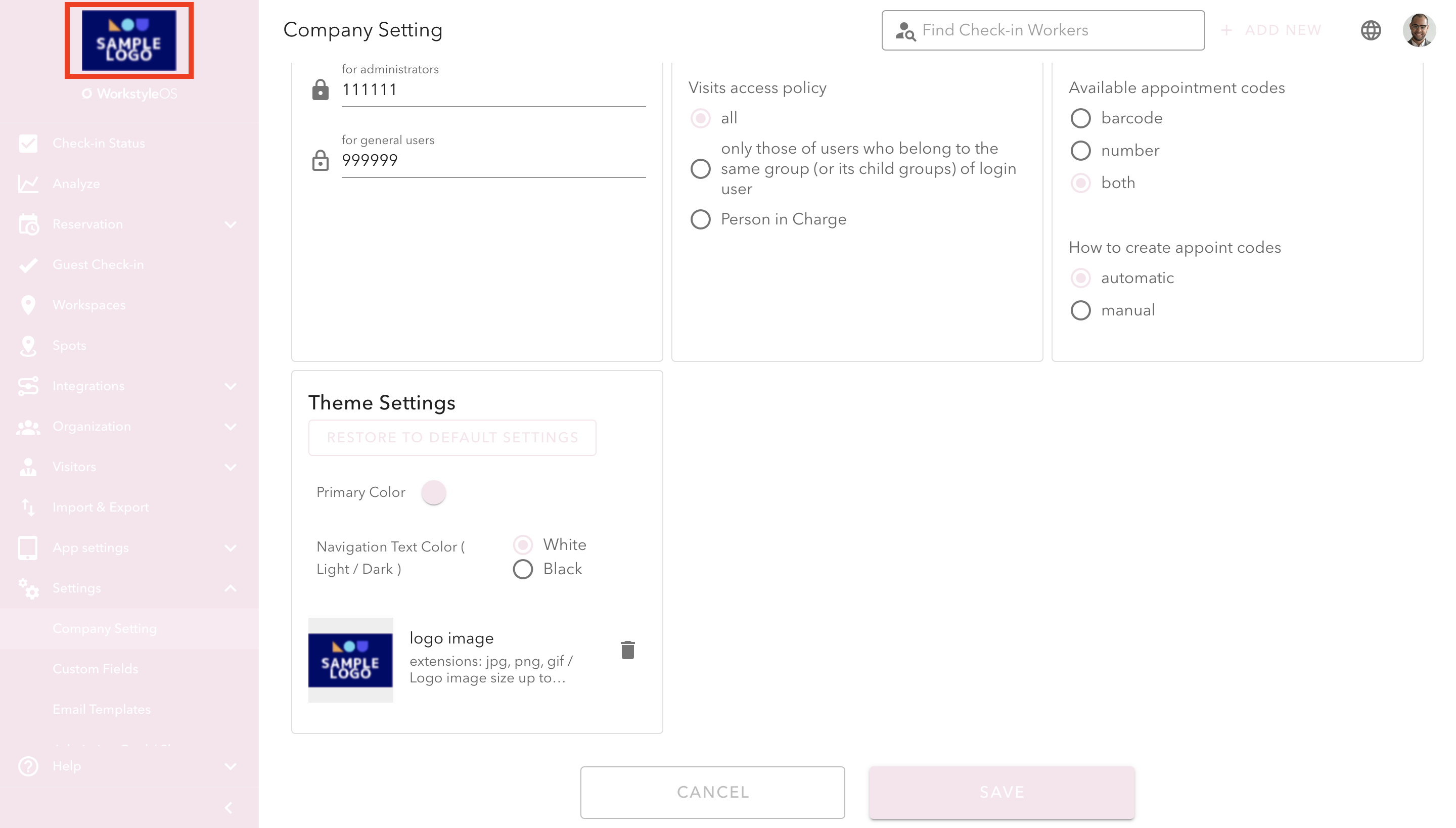 Delete your logo image
To restore to the default logo image (ACALL logo), click the trashcan icon

and click [SAVE].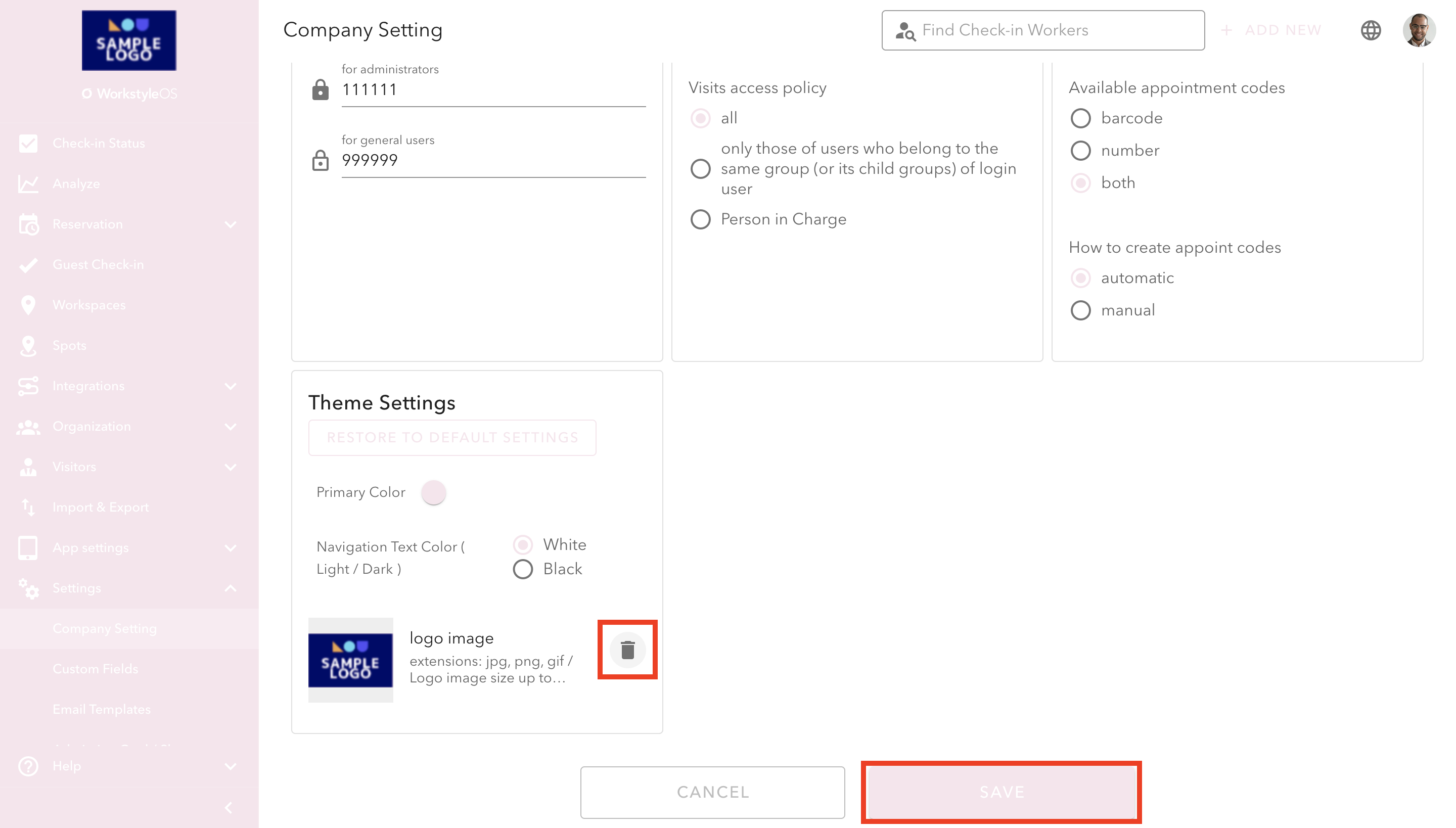 Change navigation text color
You can select navigation text color from White and Black.
To change navigation text color, select White or Black and click [SAVE].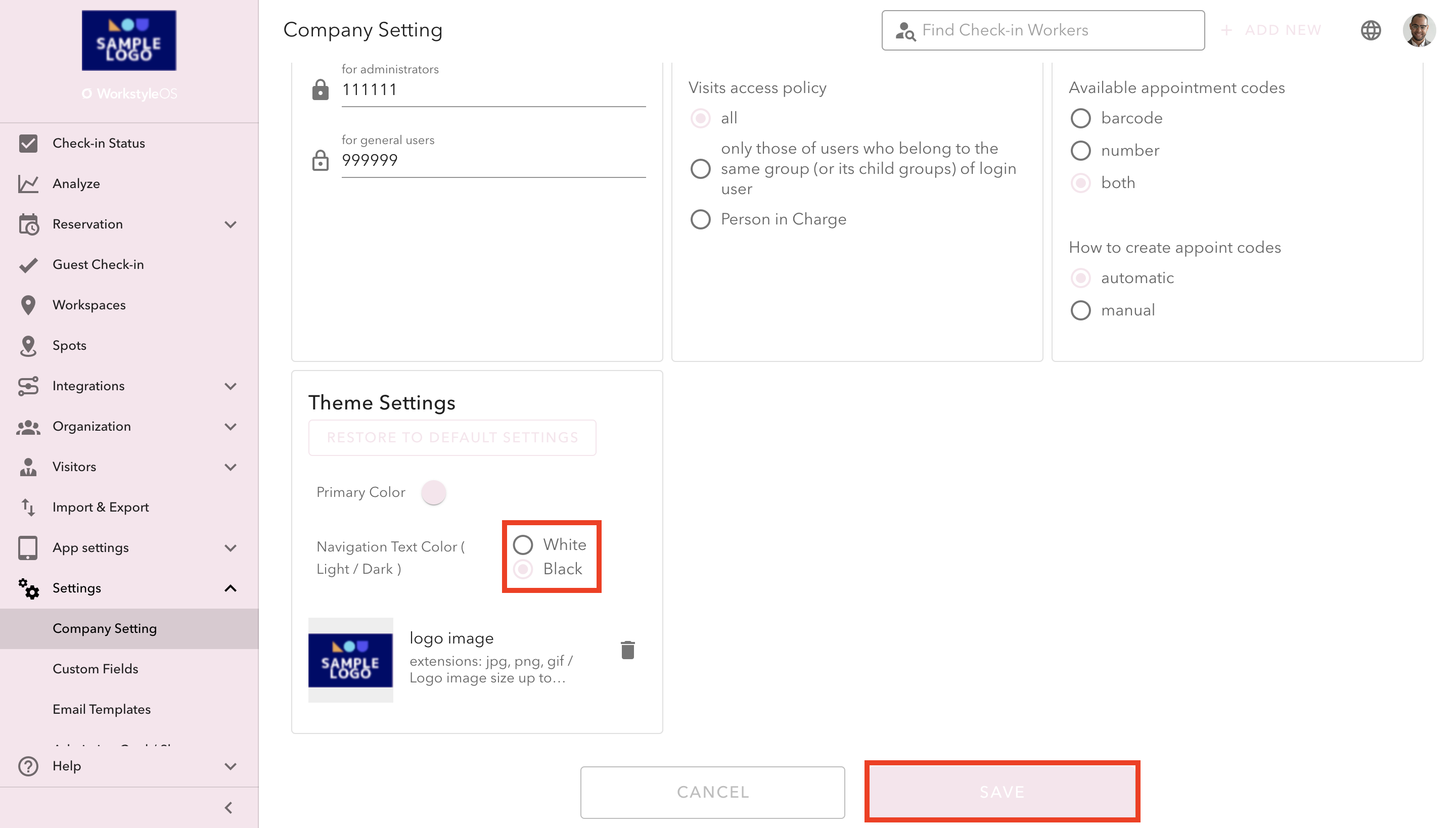 Restore to default settings
Use this option if you want to restore the primary color, navigation text color, and a logo image to the default settings.
Click [RESTORE TO DEFAULT SETTINGS].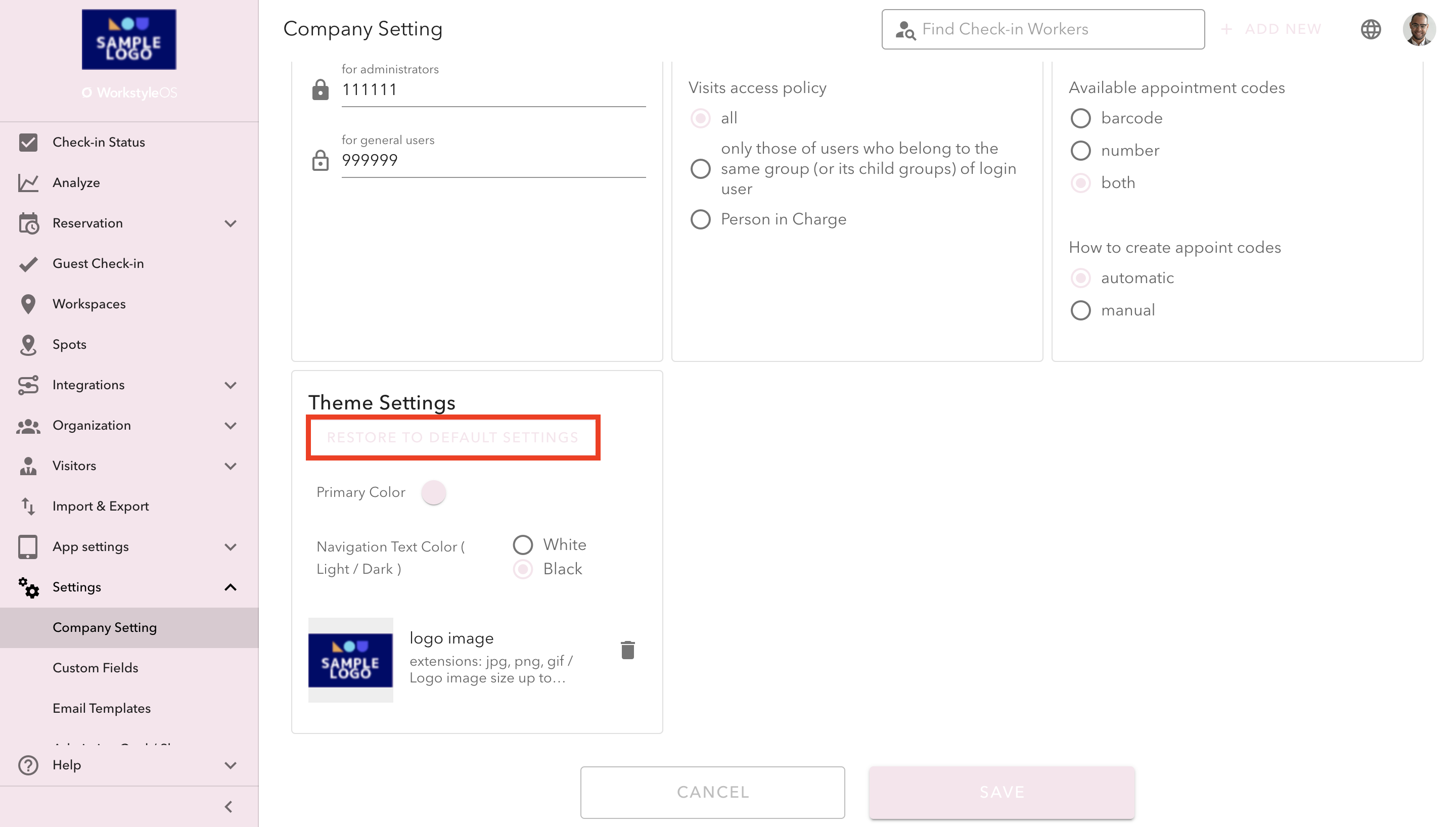 Click [SAVE].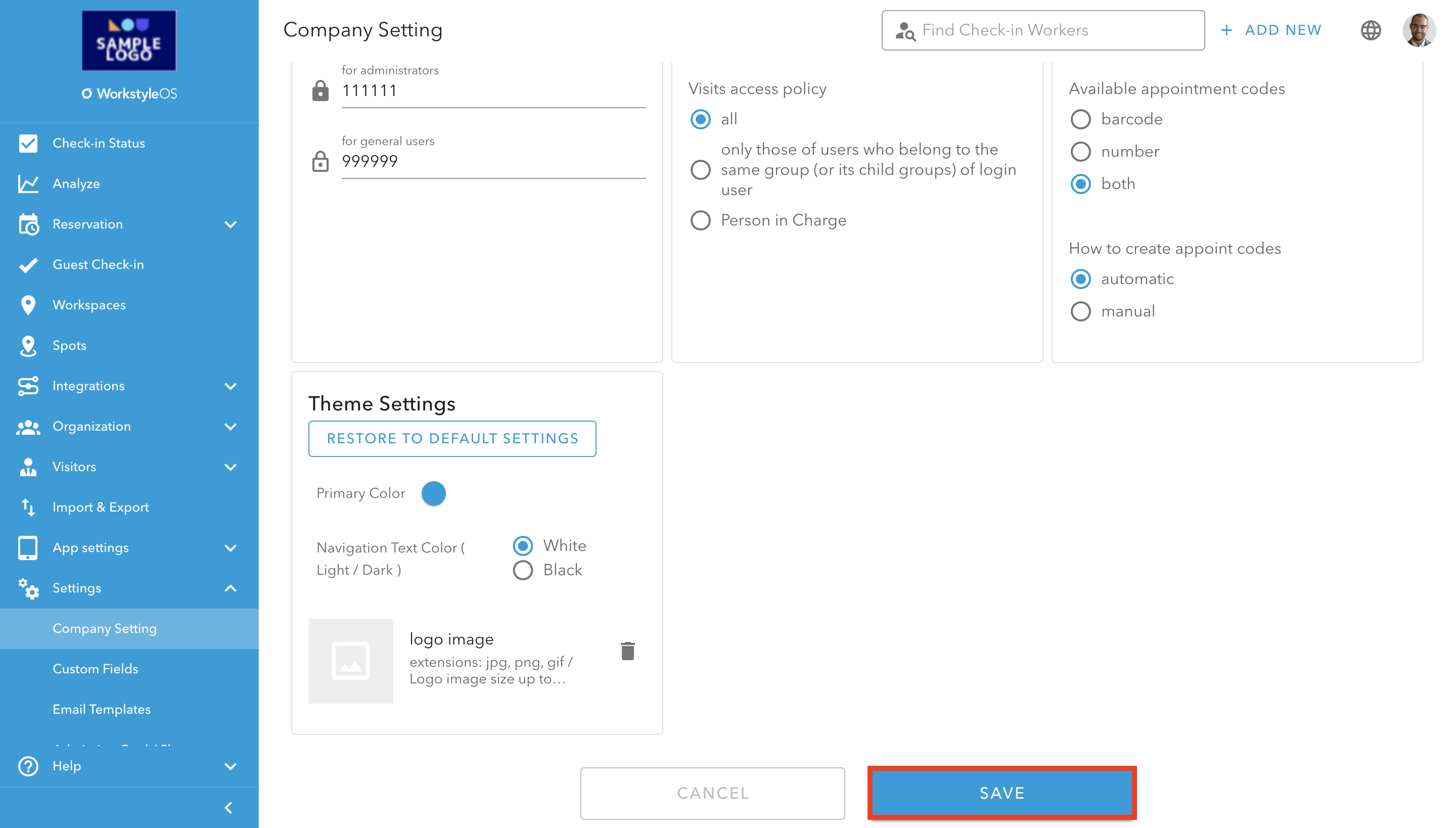 The default settings will be restored.