You can directly talk to your clients and greet them by making Audio/Video calls on FaceTime on Acall Reception. This makes it possible for users to have same response to clients as we did before with a traditional phone and receive visitor notifications in a stylish way via email or chat applications. There are two ways of settings for receiving visitor notifications, by worker or by group. The following are the steps how to set call settings on FaceTime for each.
ATTENTION
・FaceTime is only available on Apple products (Mac, iPad, iPhone, iPod, etc.). In addition to the reception, you will also need to have an Apple product in your office as the receiver.
・If you have integrated with FaceTime, Acall smartphone application (Acall Mobile) will not receive a visitor notification.
Turn ON FaceTime function
After logging in the Portal, click [App settings] > [Acall Reception] on the side menu.
In the "Additional functions" section, turn ON [FaceTime] and click [Update] at the bottom of the screen.
Select a notification method
Click [App settings] > [Acall Reception] on the side menu of the Portal, click [Edit] icon (pencil mark) on the device for opening the edit screen.
Select [Custom Call] or [Staff Search] when setting the action for the button label in the menu settings.

If you select [Custom Call], you can select [SELECT GROUP] or [SELECT WORKER].
Please refer to Customize Menu Settings on Reception iPad for more information.
Reference


・The priority order of calls will be (1) extension number and (2) FaceTime, if you connected to an extension phone and registered your AppleID.
Call a worker
The administrator should set the AppleID in the worker's edit screen.
If you want to set workers information in a batch with a CSV file, please import CSV of workers.
Workers with general permission can set their own AppleID in worker setting. (Register / Edit / Delete Workers)
Call a group
After logging in the Portal, click [Groups] on the side menu > Edit icon (pencil mark) on the group that you want to edit.
The group edit screen will be displayed. In the Apple ID field, enter the Apple ID of the device you want to notify, select Video/Audio, and click [SAVE].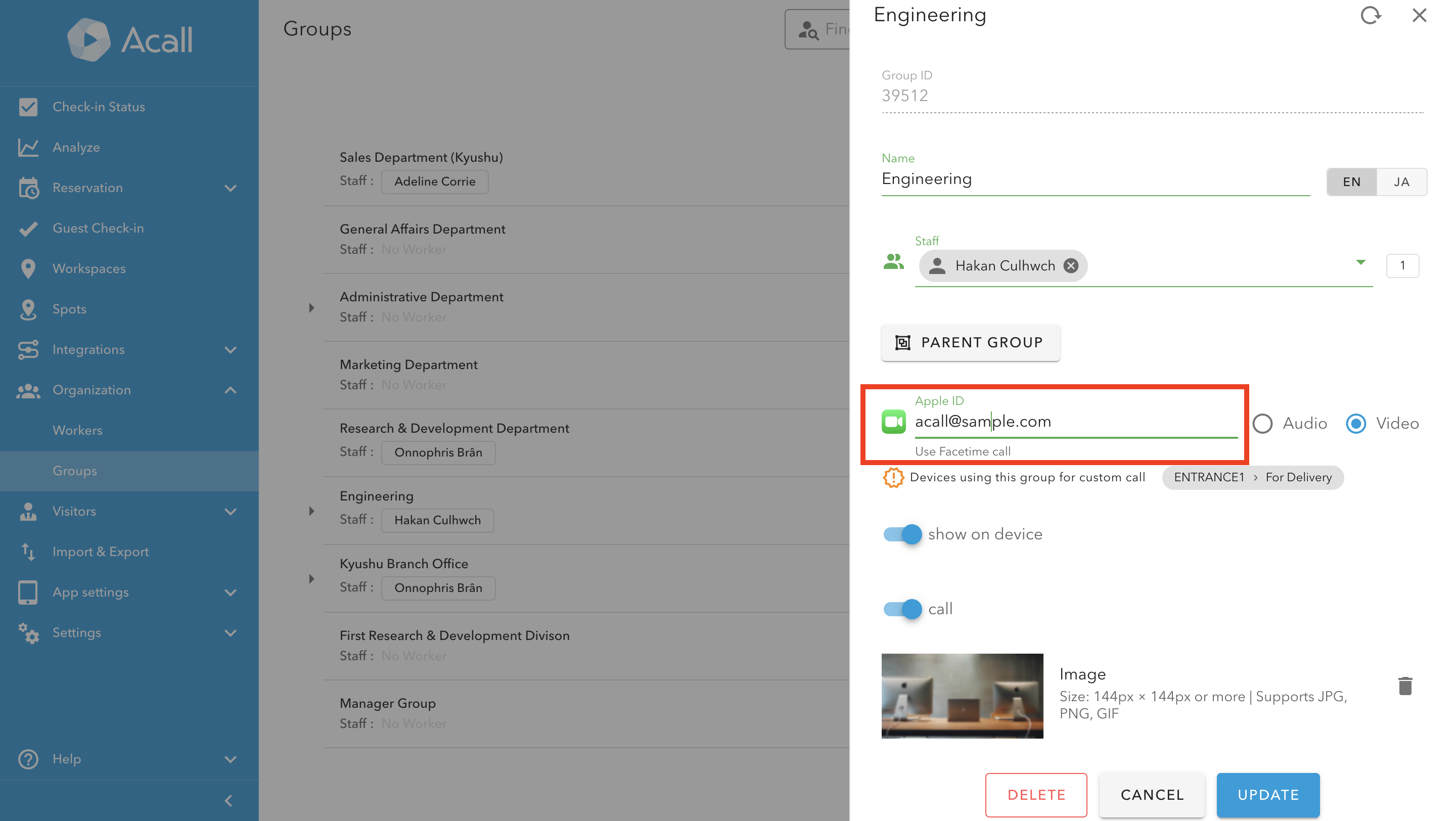 Confirm FaceTime call
Launch Acall Reception on your iPad and please make sure that you can make a FaceTime call when you select the worker or group that you entered the Apple ID.