WorkstyleOS has a config key that allows you to update applications and disconnect from the server smoothly on your iPad. Since you can set different config keys for administrator and general users, you can operate the system so that only limited users can disconnect from the server and build a secure reception area. The following is the procedure for setting the device config key.


Checking the device configuration key
After logging in to Portal, you can check the device config key from the side menu [Settings] > [Company Settings].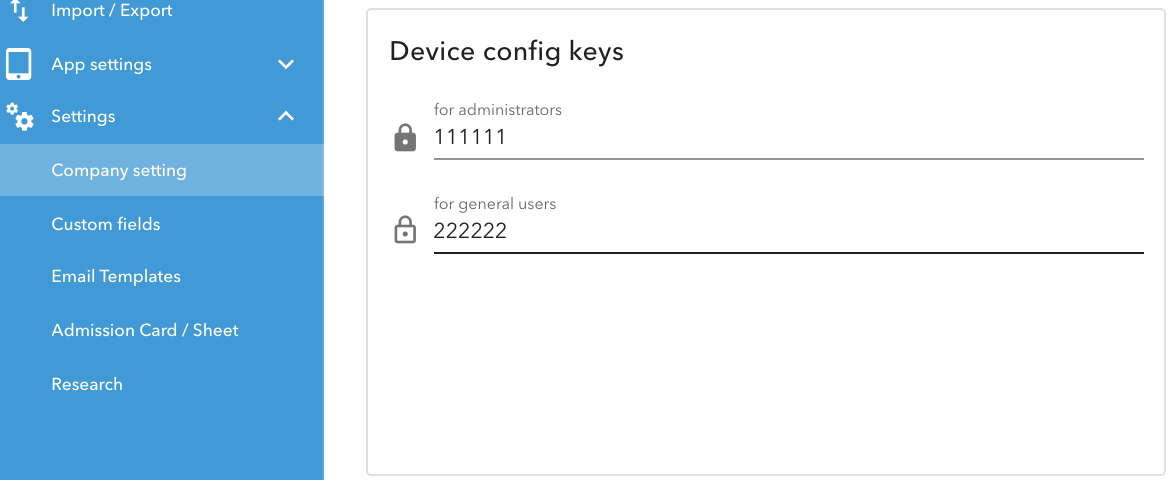 NOTE
- 

In the initial state, the number is automatically assigned.
Changing the device configuration key
Enter each of the desired numbers and click [UPDATE] to complete.
NOTE
- 

The same number cannot be set for the administrator and general keys.
Selecting a configuration key and entering the key
Enter the config key in the application.
On the ACALL RECEPTION/MEETING top screen, touch the (gear symbol) in the lower left corner.
When the numeric button for entering the configuration key appears, enter the key you have set to move to the configuration screen.